Intercontinental Online Chess Championship for Prisoners
The first Intercontinental Online Chess Championship for Prisoners is organized as a part of the Chess for Freedom program and a continuation of the international championship first held in 2019. The event will be organized by FIDE and the Cook County (Chicago, IL, USA) Sheriff's Office and is scheduled for October 13-14, 2021, on the International Day of Education in Prison.
The championship, hosted by Chess.com, is open for teams made of 4 players representing any correctional facility (jail or prison) without any specification by age and gender of prisoners.
Each country can have one team for the event. However, additional teams from the same country can be represented by prisoners of female and juvenoid (U20) correctional facilities. Up to three teams can represent every country.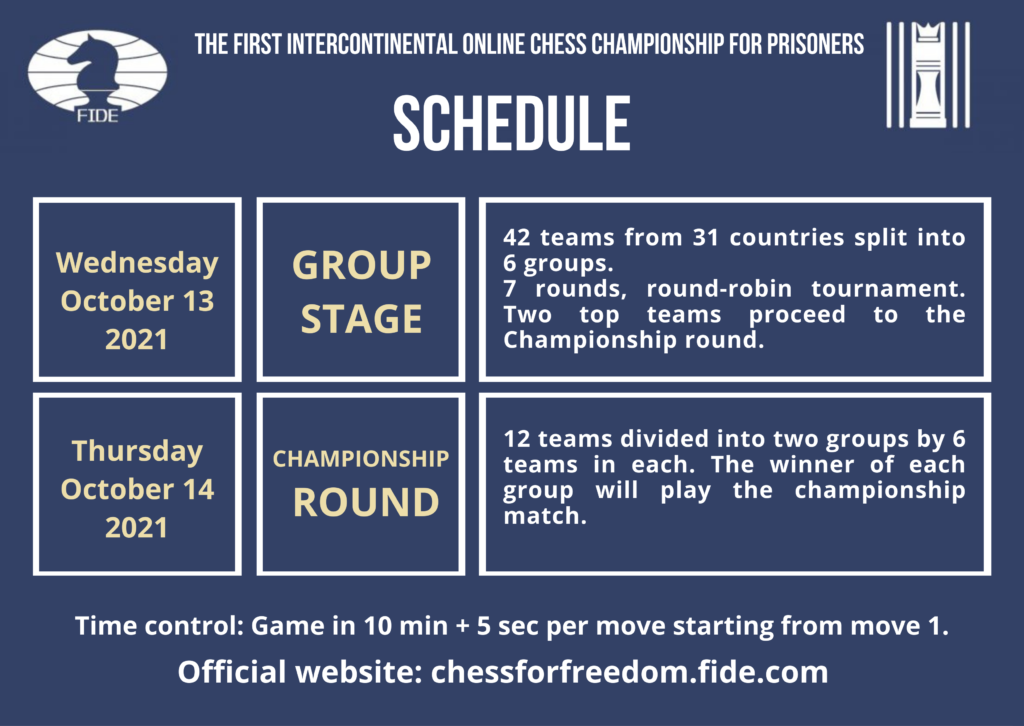 42 teams representing 31 country will be playing in the group stage of the event. Prisoners from Italy, England, Armenia, Spain, Palestine, Germany, Russia, United Arab Emirates, Colombia, Portugal, Philippines, Australia, Norway, Czech republic, Ecuador, Mongolia, Uruguay, Ukraine, Serbia, Trinidad and Tobago, Jamaica, Georgia, Zimbabwe, Turks & Caicos Islands, Croatia, Kyrgyzstan, Argentina, Cyprus, The Netherlands, USA and Macedonia were divided into 6 groups. Two top teams from each group will proceed to the Championship round.