The first Intercontinental Online Chess Championship for Prisoners – the biggest ever chess event among correctional facilities – kicked off on October 13. 41 teams from 30 countries representing all continents participated in the tournament, which aimed to popularize chess as an efficient tool for reintegrating incarcerated people.
The online opening ceremony featured FIDE President Arkady Dvorkovich and Cook County Sheriff Tom Dart.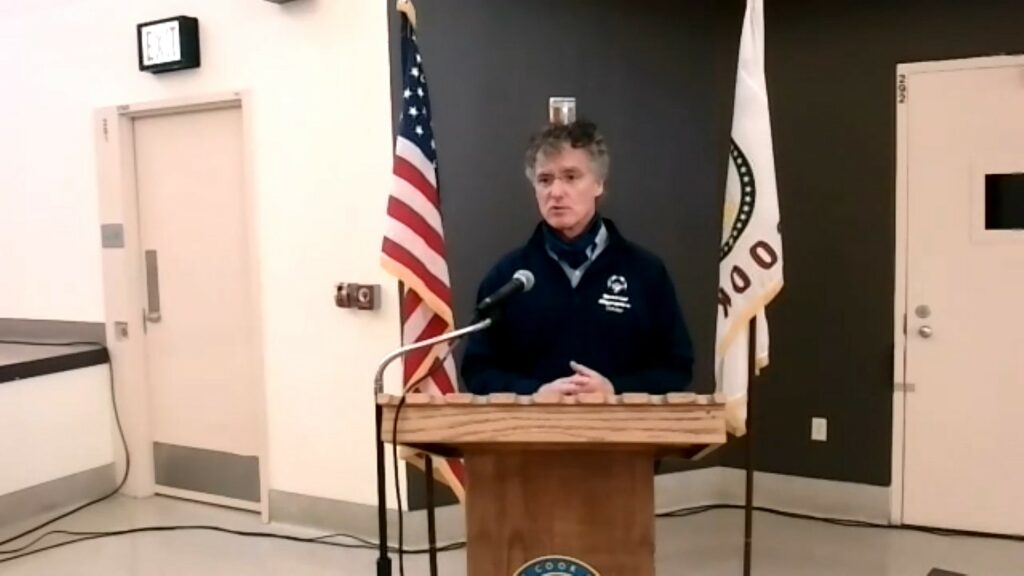 In his introductory speech, Tom Dart talked about the importance of the tournament for the inmates. "It is remarkable how chess transforms so many people's lives. In our jail system, we have well over a hundred of inmates engaged in chess. This event is a culmination of it. I cannot tell you how many of our people in this facility looked forward to it for like a year. They couldn't wait for this day to come, because this is where they can represent their country in a sport that they are very good at, they are passionate about. We have a really good team this year. And I want to say thank you to FIDE and its President Arkady Dvorkovich; without FIDE this couldn't happen," he said.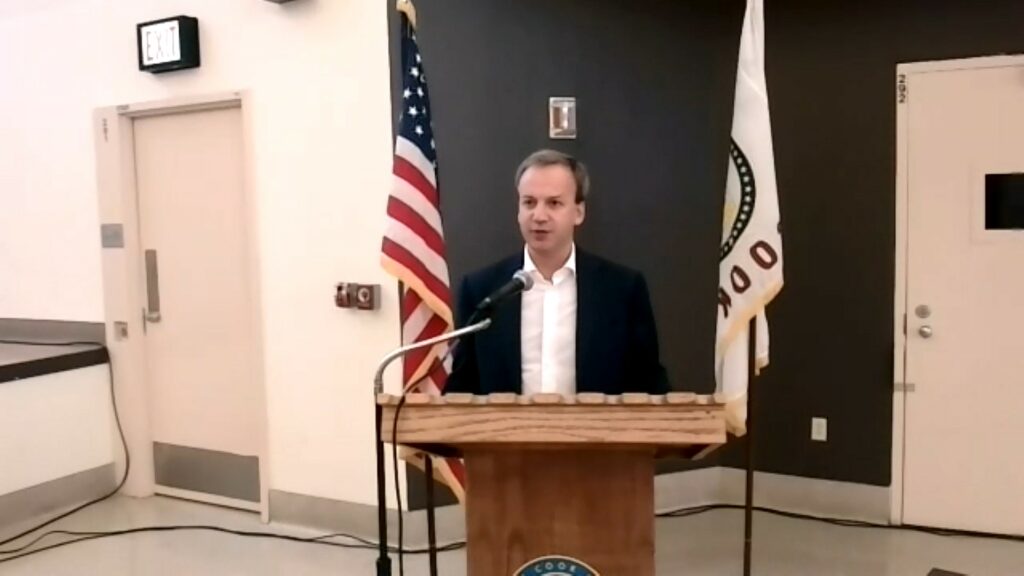 Arkady Dvorkovich underlined that chess could work as an educational tool for many people: "It's my pleasure and honour to sent greetings on behalf of the International Chess Federation to all the participants and organizers of the first Intercontinental Online Chess Championship for Prisoners! We wanted to do something good for people who made mistakes and who are going through a difficult period in their lives but have all chances to recover from that and live a better life in future. And chess helps! And the fact that we have so many participants today is proof of this. 30 countries, around 40 teams after just a few months on preparation, but also a 10-year experience of working together. I would like to thank Cook County Sheriff Tom Dart and the world champion Anatoly Karpov, who was very instrumental and very enthusiastic about bringing chess to prisons all around the world. We are doing this on the occasion of the International Day of Education in Prison, recognized by the United Nations. For us, one of the things that is really important is to send a signal that chess is an excellent educational tool for everyone – kids, people at risk, like refugees, and whose people who made wrong steps in their lives."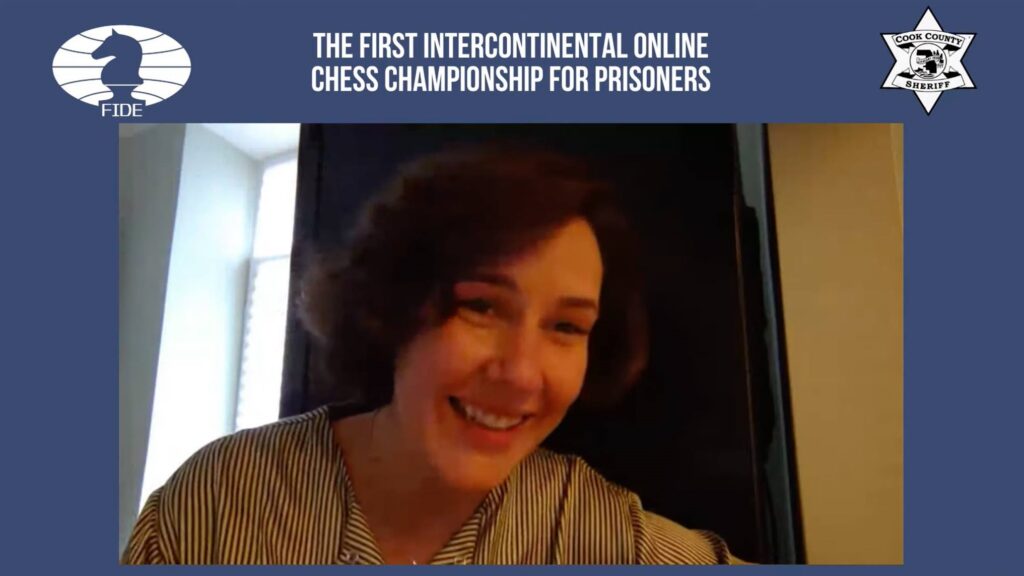 FIDE Managing Director Dana Reizniece-Ozola added that the Chess for Freedom program launched by FIDE in May 2021will not be limited to hosting chess events among prisoners: "We shall continue with tournaments and conferences, but also we are willing to prepare a new methodology that could be used by the countries that don't have a training system yet and are willing to introduce chess in prisons. We are also planning to research how chess impacts the inmates and concentrate on preventive measures, promoting chess to children and youth at risk.
Many special guests – experts, chess activists, and chess teachers in prisons – joined the event's broadcast. Among them was WGM Padmini Roup, an ambassador of the "Parivartan – Prison to Pride" project, launched by IndianOil for training prison inmates in specific sports: "We had training camps in 17 different prisons," – she said. – "It's a unique and new initiative, and I am very happy to be a part of it. I hope playing chess will give participants motivation to become better people. Also, this tournament is a team event, so it can teach how to be a team player. They come from different backgrounds, and a lot of them are normal people who had unfortunate times, wrong decisions at certain moments and ended up behind bars."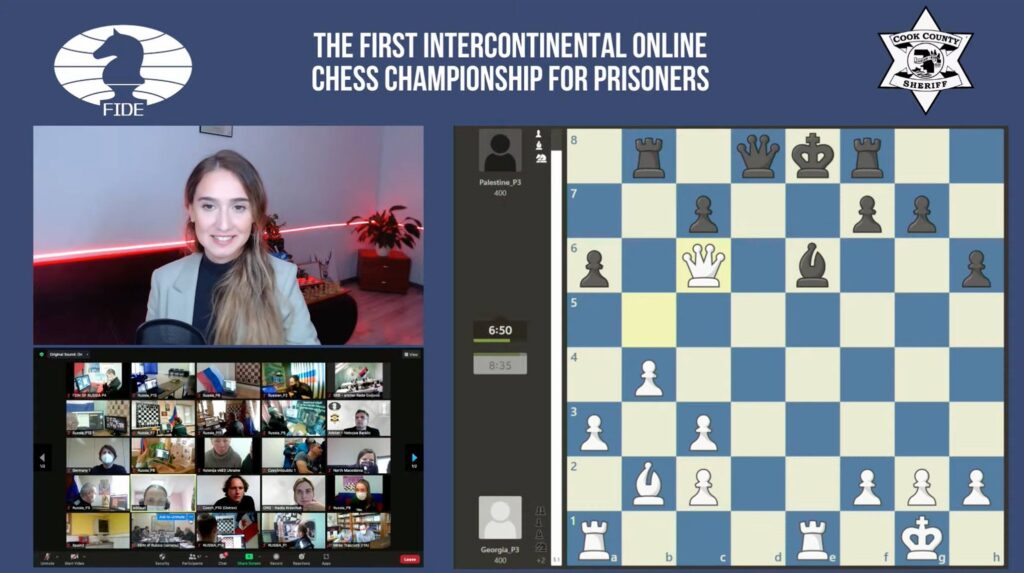 Some former prisoners also told their stories about chess helping them to change their lives. Simosakhe Ngwane, an ex-convict from South Africa, was one of them.
"I started playing chess in prison, and I fell in love with the game," he confessed. "Learning chess made me develop a positive attitude. It taught me that life is built by the decisions we make every day. If I do what's right, then I can enjoy the positive results and enjoy life. Chess is very important for those in prison and people who don't want to go to prison because it makes you think about the future and worry more about the consequences of your decisions now. Chess brings discipline and calm; you must wait, think, prepare before you make a decision or a move. I hope the program expands into schools as well because that's where our kids start making mistakes."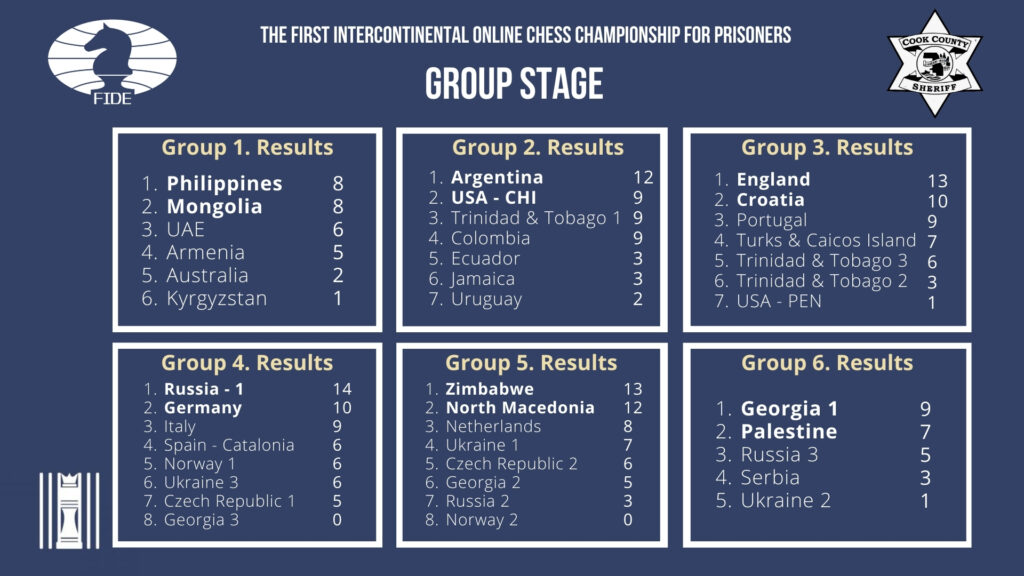 The two-day tournament started with a group stage where all the teams, made of 4 players each, were divided into 6 groups competing in round-robin chess tournaments. Two top teams from each group advanced to the Championship round that will be played tomorrow, October 14. Those teams are Philippines and Mongolia (Group 1), Argentina and USA (Group 2), England and Croatia (Group 3), Russia 1 and Germany (Group 4), Zimbabwe and North Macedonia (Group 5), Georgia 1 and Palestine (Group 6).
The event will continue tomorrow, on October 14, with the Championship round, where 12 teams divided into two groups will play round-robin tournaments with the winners facing off in the championship match. Two best women's teams will play a separate final match.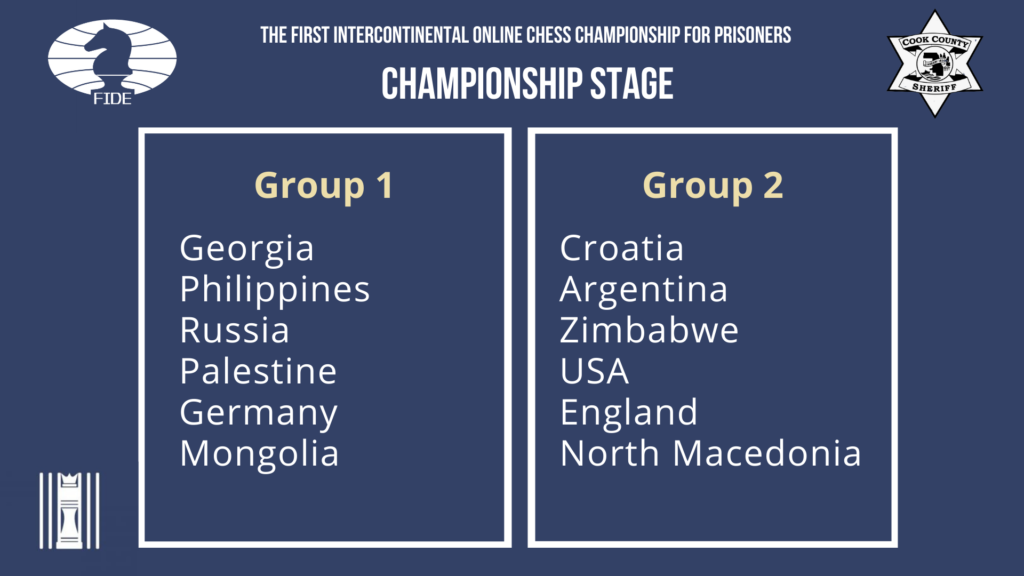 The broadcast of the event starts at 10:00 CET: https://youtu.be/T0c5rOZsSh0
The Championship can also be followed on Chess.com:
https://www.chess.com/events/2021-intercontinental-chess-championship-for-prisoners/results