FIDE and the Cook County Sheriff's Office (Chicago, USA) are pleased to announce the 2023 Chess for Freedom Conference, scheduled to take place May 17th – May 20th, 2023, in Chicago, USA. This will be the first in-person Chess for Freedom Conference. We are very grateful for our sponsors and all the participating correctional facilities around the world. Invitations will be extended to all previous online intercontinental event participants.
Chess For Freedom – Conference Goals
To debrief on the outcomes from past online intercontinental chess events, hosted by FIDE and the Cook County Sheriff's Office, including highlighting notable event accomplishments, and identifying improvement areas.
To introduce the latest available research on the impact of programming in a correctional setting and its impact on the population post-release.
To discuss engagement strategies for potential partners associated with the Chess for Freedom program.
The conference event schedule is as follows:
May 17th: Guests arrive.
May 18th: Cook County Jail tour (includes meeting with CCDOC administration and Program's staff).
May 19th: Conference plenary session featuring various breakout topics.
May 20th: Sightseeing throughout downtown Chicago.
May 21st: Guests departure.
"The prison officials see that in the places where the chess program is implemented, the behavior of the individuals in-custody changes, depression and stress levels decrease, they are better with socialization skills when they leave the facility. It's not only about the skills and another way of spending free time, but also the sense of belonging to a community, to the chess family. We've been working a lot to advocate for a program itself, but the examples of the other countries work even better," says Deputy Chair of the FIDE Management Board Dana Reizniece-Ozola about the rapid growth of the program.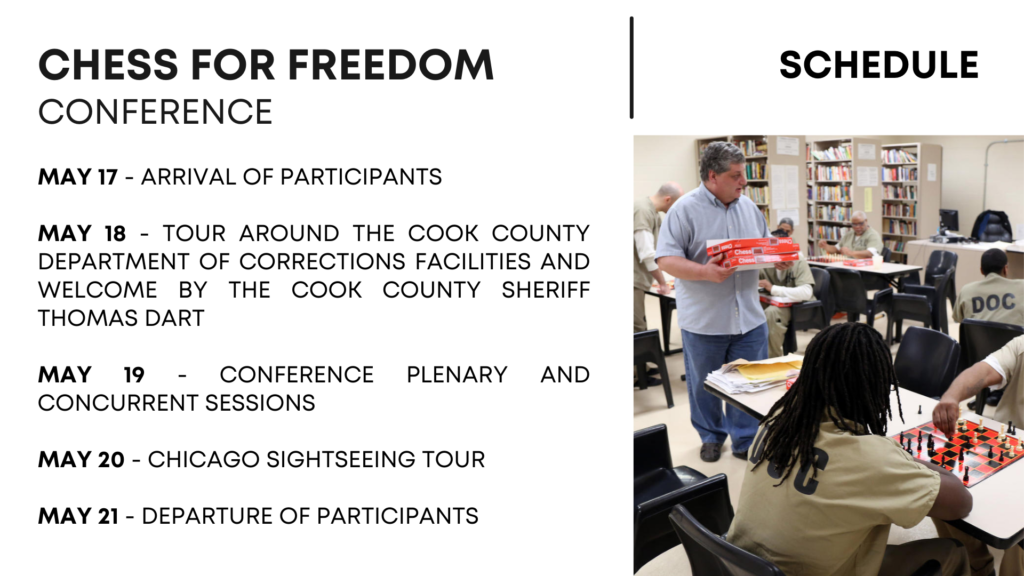 Chess for Freedom Conference – Lodging Details
The official hotel for the Chess for Freedom Conference is the Hyatt Place Chicago/Schaumburg, located at 1851 McConnor Parkway in Schaumburg, Illinois (60173). Please click this link above for special conference rate details.
All attendees are required to register for the conference via this link.
Chess for Freedom Conference – Contact Information
Mikhail Korenman
Chess Program Coordinator at CCDOC,
FIDE International Chess Organizer and Member of FIDE Social Commission
Email Mikhail.Korenman@ccsheriff.org
WhatsApp.: +1-785-906-0402